Criminal Appeal Attorney In San Antonio, Texas
If you are convicted of a crime, you have the right to file an appeal. The appeals attorney at The Law Office of Dr. E.R. Báez, P.C. works tirelessly to prepare a safety net in case you receive an unfavorable pretrial ruling or are convicted of a crime after the trial. If any trial court actions or decisions can be appealed or challenged, our criminal appeal attorney will do so and present strong arguments to a higher court.
If you have been convicted of a crime, you will need the assistance of an appeals attorney that can represent you in Texas and Federal courts. Our appeals lawyer, Dr. E.R. Báez, has served countless clients in San Antonio and throughout Texas. Let our law office help you achieve the results you deserve!
EXPERIENCED APPEALS ATTORNEY
Representing Clients Throughout Texas And In Federal Courts
The appellate process allows you to fight charges against someone you care about, regardless of whether they were convicted by a jury, judge, or pleaded guilty. There are critical deadlines to meet and you should contact a criminal appeal attorney as soon as your sentence is determined. If you miss a deadline, you may lose your appeal.
Many legal and factual issues may arise during the trial, leading to an unjustly guilty verdict. The only way to keep fighting your case is to appeal your conviction. An experienced appeals attorney will be able to advise you on what to do and how to present your case to overturn your conviction. Call The Law Office of Dr. E.R. Báez, P.C. to speak with an experienced appeals lawyer who will fight for your rights in the courts of appeal.
The Appellate Courts of Texas
Without appellate courts, the judicial system is incomplete. Appellate courts render decisions on how the law should be applied in courts. After a defendant has been sentenced in a county or district court, he or she may appeal to the Court of Appeals. The state of Texas is divided into 14 Courts of Appeals. Bexar County and 31 other nearby counties are heard by the Fourth Court of Appeals, which is located in San Antonio, Texas.
Discretionary Review Petition At The Texas Court of Criminal Appeals
A criminal defendant would then petition the Court of Criminal Appeals in Austin for Discretionary Review. The Court of Criminal Appeals, Texas' highest criminal appellate court, has final jurisdiction over all criminal cases in the state. Unlike the Court of Appeals, the Court of Criminal Appeals is not required to review cases filed in its court. If necessary, the Court of Criminal Appeals may order an additional appellate review. The case can then be appealed to the United States Supreme Court in Washington, D.C.
The Federal Appellate Courts
The Federal Courts are divided into 13 circuits, each with its own Appellate Court. The Fifth Circuit includes the federal district courts of Texas. Federal courts from Louisiana, Mississippi, and Mississippi are also included. The Fifth Circuit Court of Appeals is located in New Orleans, Louisiana. If a federal appeal is unsuccessful, the loser may petition the United States Supreme Court for a review of the case. The United States Supreme Court is not required to hear every case that is presented to it.
Defending your conviction is possible at any stage of the appeal process, whether in State or Federal Court. Whichever point you are in the appeal process; you should be represented by an experienced federal appeals lawyer. Please contact The Law Office of Dr. E.R. Báez, P.C. as soon as possible to discuss your appeal with our federal appeals lawyer.
Our Strategic Representation Will Get You Desired Results!
The criminal appeal attorney at The Law Office of Dr. E.R. Báez, P.C. is well-versed in appeals and other post-conviction procedures. Our appeals attorney, Dr. E.R. Báez, has experience in oral arguments and brief writing for appellate courts across the country. Our federal appeals lawyer can assist you in your fight for liberty beyond the state of Texas.
Appeal law is a complicated area of the law. It is not enough that the lower court made a mistake. Our appeals attorney will ensure that any mistakes are documented so that they can be challenged or appealed.
By putting your trust in our criminal appeal attorney, he will return the favor by working tirelessly so you are facilitated well through a difficult and time-consuming legal process. You can rest assured that your faith in our appeals lawyer will be put into good use in finding real solutions that work for your difficult problems — something we take seriously at The Law Office of Dr. E.R. Báez, P.C. is your appeals attorney, and he will keep you informed at all stages of your case to ensure that you get the best possible result.
PRESENTING YOUR CASE TO THE SUPREME COURT
Experienced Defense Representation From A Reputable Criminal Defense Attorney San Antonio
Many people are unaware that many issues that may arise during a criminal case can be appealed to the United States Supreme Court. This holds whether you are in Texas state or Federal Courts.
Our federal appeals lawyer has a thorough understanding of the appeals process, allowing him to determine where a case should be heard at each stage. In addition, our federal appeals lawyer is well-versed in a variety of appeal and post-conviction forms, including Habeas Corpus, Corum Novis, and Mandamus.
Have Questions?
We Have Answers!
"How do I find a recently arrested person in San Antonio?"

Finding out where someone went after they were arrested can be difficult, and you may have to access websites online or make several phone calls. However, it can be a good start to visit the Magistrate's Office Search Website to find information or call the Magistrate's Office at 210-335-6111. If you have the inmate's SID or System Identification Number you may call Central Filing (Misdemeanor Records) at 210-335-2238 or contact Felony Records' District Clerk at 210-335-2591.

"Can I represent myself in a San Antonio criminal case trial?"

San Antonio law allows you to represent yourself before the court under certain criteria. However, we highly advise against it. Do not risk your future! You need a criminal defense attorney who can protect your legal rights and has the necessary experience in providing an exceptional defense strategy on your behalf. Call our criminal defense firm to represent you for any criminal charges you may be facing.

"What is a bench warrant?"

When a person fails to appear in court on a specific date after receiving a notice or order to appear, a bench warrant is usually issued. The person is subject to arrest once the warrant is issued.

If you choose to represent yourself, the court would expect you to file the correct legal paperwork and follow the complicated court procedures in your criminal case. The judge could impose harsh consequences, such as barring you from filing an important motion, if you violate the rules.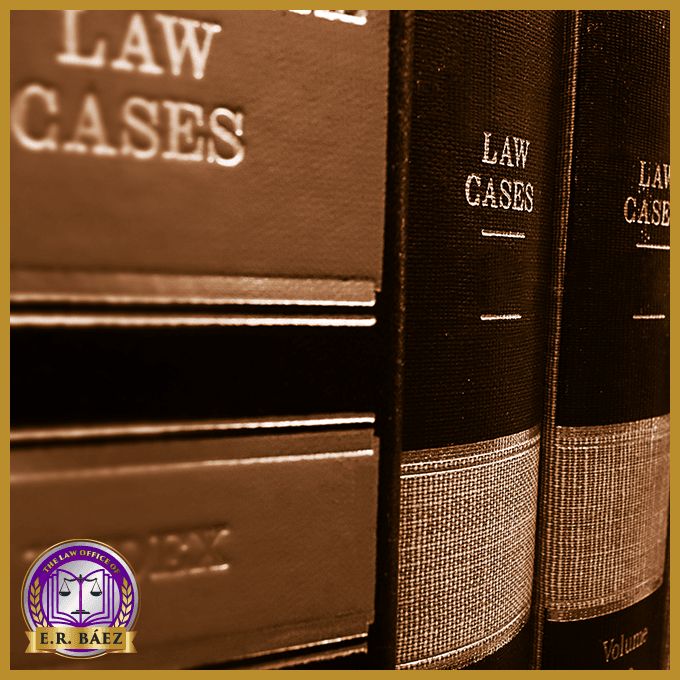 The Law Office of Dr. E.R. Báez, P.C. Houses One Of The Most Qualified Criminal Appeal Lawyers For All Your Legal Needs
What Are The Fundamental Errors For A Direct Appeal?
A direct appeal following a criminal conviction can raise a variety of issues. Fundamental errors are examples of errors that can be easily reviewed in a direct appeal which include:
Refusing to provide advice;
Refusing to testify in front of a jury;
Denial of ten days for trial preparation by appointed counsel;
Inadequate defendant jurisdiction;
Subject matter jurisdiction is lacking;
A penal statute that violates the state constitution's section on the Separation of Powers may be prosecuted;
Errors in jury selection that cause significant harm;
Trials were held somewhere other than the county seat;
Ex post facto legislation allows for prosecution; and
Comments made by a trial judge can undermine the presumption of innocence.
The San Antonio criminal defense attorney at our law office will do everything in his power to preserve legal challenges that may be raised on appeal. Moreover, our San Antonio criminal lawyer has also argued procedural defaults and the presumption that prior judicial review is correct.
At the Law Office of Dr. E.R. Báez, our criminal appeal attorney understands that people come to our office because they are going through a difficult time in their lives.
A person accused of a crime faces immediate arrest and the financial burden of bail. Many people miss work as a result of their initial arrest, which can lead to job loss or career setbacks. Court appearances after the case have been filed can cause additional problems with family and work. These consequences can result in loss of liberty and other issues.
Our criminal appeal attorney pays close attention to our clients and their family's needs. When clients choose the services of our criminal appeal attorney, he understands that they are putting their trust in our criminal appeal attorney to achieve the best possible outcome for them and their loved ones.
Contact our criminal appeal attorney right away to schedule a free consultation to learn more about your options. Do not try to handle your criminal case on your own. Always seek counsel from trusted criminal appeal lawyers. At The Law Office of Dr. E.R. Báez, P.C., your rights will be fought for aggressively by an experienced criminal appeal attorney.