Felonies Defense Attorney in San Antonio
Facing felony charges can be an incredibly stressful and overwhelming experience. The consequences of a felony conviction can be severe, impacting not only your freedom but also your reputation, future employment opportunities, and personal relationships. In such challenging times, it is crucial to have a skilled and experienced felonies defense attorney by your side, fighting for your rights and guiding you through the complex legal process.
The Law Office of Dr. E.R. Báez, P.C. understands the gravity of your situation and is dedicated to providing aggressive and effective representation for individuals facing felony charges in San Antonio. Since 2005, we have successfully represented clients charged with a range of felonies, including murder, robbery, burglary, drug distribution or trafficking, fraud, and other violent crimes. With over two decades of experience in criminal defense law, we understand the nuances of Texas laws to build strong legal strategies for our clients.
To get started on building a strong defense against felony charges in San Antonio, get in touch with The Law Office of Dr. E.R. Báez, P.C.. Dial (210) 361-1112 or complete our online form to schedule a free consultation today. Se habla español.
Understanding Felony Charges
In Texas, felonies are the most serious category of offenses, carrying severe penalties that can severely impact your future. This is not something as simple as paying a fine and moving on with your life. A felony conviction can lead to years of jail time, steep fines, and probation or parole periods with extensive supervision.
Felonies are divided into five different categories:
Capital felonies: Capital felonies are the most serious type of felony in Texas and can carry a life sentence or even death penalty.
First-degree felonies: These felonies carry a potential prison sentence of 5 to 99 years and fines up to $10,000. Common examples include murder, arson, burglary, aggravated robbery, and sexual assault.
Second-degree felonies: These felonies have a maximum punishment of 20 years in prison and fines up to $10,000. Examples include reckless injury to a child or elderly person as well as possession with intent to deliver certain drugs such as cocaine, methamphetamines, or heroin.
Third-degree felony: The punishment for third-degree felonies is 2-10 year sentences in state prison with possible fines up to $10,000. Examples include evading arrest with vehicle use and possessing 4 grams or more but less than 200 grams of certain controlled substances like marijuana waxes/oils.
State jail felony: This category carries punishments between 180 days and 2 years imprisonment along with hefty fines totaling up to $10,000 depending on the charge/offense committed by the defendant. Common examples include possession of less than one gram of certain controlled substances like cocaine and theft between $2,500-$30,000.
Regardless of the specific charges you're facing, it's crucial to have an experienced defense attorney on your side who understands the complexities of Texas law and can navigate the complicated legal system on your behalf. The Law Office of Dr. E.R. Báez, P.C. has successfully defended hundreds of clients throughout Texas with proven results. We have the knowledge and experience to provide the aggressive defense that can make all the difference in your case outcome.
Why Choose The Law Office of Dr. E.R. Báez, P.C. for Your Felony Case?
Choosing the right defense attorney is one of the most critical decisions you'll make when facing felony charges. With your freedom and future on the line, you need an experienced attorney who will give their all to ensure that your rights are protected.
By choosing our San Antonio felony attorney, you will benefit from:
Aggressive defense strategies: We develop aggressive defense strategies tailored to the unique circumstances of each case. Whether it's challenging the legality of the evidence, identifying constitutional violations, or negotiating for reduced charges or alternative sentencing, we leverage our knowledge and experience to fight for the best possible outcome.
Skillful negotiations and trial advocacy: Our goal is to achieve the best possible outcome for our clients. We are skilled negotiators and will explore all avenues for plea bargains or reduced charges. If a trial is necessary, we have a track record of success in the courtroom and will vigorously advocate for your rights, presenting a compelling defense to the judge and jury.
Compassionate support: We understand the emotional toll that facing felony charges can take on you and your loved ones. Our team is committed to providing compassionate support throughout the process, answering your questions, and alleviating your concerns. We believe in building strong attorney-client relationships based on trust, respect, and open communication.
If you or a loved one is facing felony charges in San Antonio, don't wait to get the legal help you need. Contact The Law Office of Dr. E.R. Báez, P.C. today at (210) 361-1112 to schedule a consultation and learn more about how we can help you. Your future is too important to leave to chance. Let us fight for you.
Have Questions?
We Have Answers!
"How do I find a recently arrested person in San Antonio?"

Finding out where someone went after they were arrested can be difficult, and you may have to access websites online or make several phone calls. However, it can be a good start to visit the Magistrate's Office Search Website to find information or call the Magistrate's Office at 210-335-6111. If you have the inmate's SID or System Identification Number you may call Central Filing (Misdemeanor Records) at 210-335-2238 or contact Felony Records' District Clerk at 210-335-2591.

"Can I represent myself in a San Antonio criminal case trial?"

San Antonio law allows you to represent yourself before the court under certain criteria. However, we highly advise against it. Do not risk your future! You need a criminal defense attorney who can protect your legal rights and has the necessary experience in providing an exceptional defense strategy on your behalf. Call our criminal defense firm to represent you for any criminal charges you may be facing.

"What is a bench warrant?"

When a person fails to appear in court on a specific date after receiving a notice or order to appear, a bench warrant is usually issued. The person is subject to arrest once the warrant is issued.

If you choose to represent yourself, the court would expect you to file the correct legal paperwork and follow the complicated court procedures in your criminal case. The judge could impose harsh consequences, such as barring you from filing an important motion, if you violate the rules.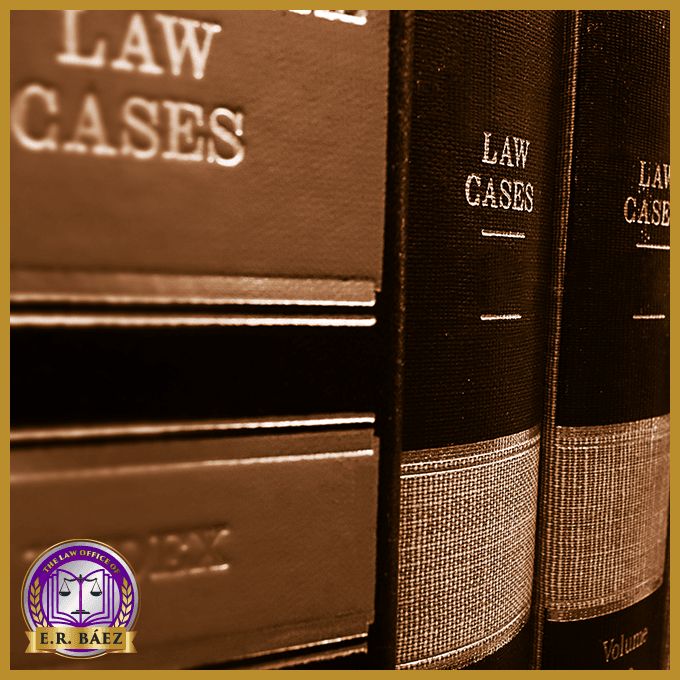 Local law enforcement brings the majority of criminal charges, which are heard in state courts. However, in certain circumstances, the federal government may be able to assist in the pursuit of criminal charges against someone. Charges against federal offenses are brought in federal courts. These federal offenses frequently carry harsher penalties that can have a long-term impact on a person's life— this is precisely why you need a skilled and experienced federal lawyer on your side.
Different laws and procedures govern these situations. Not all lawyers are authorized to represent clients in federal court. You must work with one of the experienced federal lawyers in San Antonio, such as Dr. E.R. Báez, who is familiar with federal court challenges.
Federal law enforcement agencies receive more funding than local or state law enforcement agencies, which can render many federal lawyers at a disadvantage. At every stage of an investigation or prosecution, federal agents and prosecutors have vast resources at their disposal. Therefore, good federal lawyers should be resourceful and prepared at all times to give you the best possible outcome for your federal case.
Many of these cases begin years before an arrest is made for a federal offense. Federal agents frequently inform white-collar criminals about ongoing investigations. When you learn about the investigation, you should contact the federal criminal defense lawyer at The Law Office of Dr. E.R. Báez, P.C. right away. Our federal criminal attorney has extensive experience representing clients with serious federal prosecutions in the state of Texas. Our federal defense lawyer will represent you at every stage of a federal criminal case, from the beginning of an investigation to the filing of criminal charges and the jury trial.
Strategic Defense Representation For Your Federal Case
Appeal law is a complicated area of the law. It is not enough that the lower court made a mistake. Our appeals attorney will ensure that any mistakes are documented so that they can be challenged or appealed.
The criminal appeal attorney at The Law Office of Dr. E.R. Báez, P.C. is well-versed in appeals and other post-conviction procedures. Our federal criminal defense lawyer, Dr. E.R. Báez, has extensive experience in oral arguments and brief writing for appellate courts. Our federal appeals lawyer can assist you in your fight for liberty beyond the state of Texas.
Looking For Reliable Lawyers For Federal Cases In San Antonio?
If you're looking for a "federal attorney near me" in San Antonio that you can rely on, you've come to the right law office.
By putting your trust in our federal criminal attorney, he will work tirelessly so that you are facilitated through a difficult and time-consuming legal process. You can put your faith in our federal defense lawyer as he will investigate your case and provide a strategic defense that provides you with the best chances of a positive outcome.
Dr. E.R. Báez is one of the most qualified and experienced federal appeal attorneys in Texas to represent you. He will keep you informed at all stages of your federal case to ensure that you get the best possible outcome for your federal charges. Contact The Law Office of Dr. E.R. Báez, P.C. for a free consultation to speak to our federal appeal attorney today!