San Antonio Attorney For Writ Of Habeas Corpus
One way to challenge the legality or prove innocence is to file a writ of habeas corpus. This area of law is extremely specialized, and not all lawyers are experienced in filing these types of cases. A habeas corpus writ is solely based on the constitution and whether or not a sentence is constitutional. A creative and experienced attorney must know what documents to file a writ. To fight a conviction or sentence, you need a truly experienced lawyer such as attorney Dr. E.R. Báez at The Law Office of Dr. E.R. Báez, P.C..
What Is A Texas Writ Of Habeas Corpus?
Certain types of trial errors can be difficult, if not impossible, to preserve for appellate review as part of the direct appeal process. Evidence or witnesses who could have aided your case or who were absent for extended periods may reappear even after the appeal's deadline has passed or when you are preparing to litigate your direct appeal.
A criminal statute that was used to convict you may be later declared unconstitutional or procedural by the Supreme Court's Court of Criminal Appeals. In such cases, you may apply for a writ of habeas corpus.
A writ of habeas corpus refers to a court order that is issued to either an agency or a person who is holding someone in custody. The person in custody must be delivered to the court by the recipient. If you want to challenge the legality or conditions of your imprisonment, you must file this type of motion.
Typically, a writ of habeas corpus is subject to stringent procedures. This option is not always available. If this is possible, you might be able to get your sentence changed.
While writs are similar to appeals in some ways, they are fundamentally different — writs allow for new evidence or matters not included in your trial record to be presented to the court through a live hearing or an affidavit.
Depending on the nature of the case, state habeas work procedures differ. The writ of habeas corpus may be used to seek relief from a conviction that results in imprisonment, relief from a conviction in a capital murder case, or relief from a conviction that results in community supervision.
Under certain conditions, a federal writ for habeas corpus may also be available, provided the petitioner meets the strict time requirements and follows the procedural rules established by Congress.
What Are The Issues Raised In A Habeas Corpus Writ?
The following are just a few examples of possible habeas corpus claims:
Ineffective Counsel Assistance

Counsel denied the client's right to appeal.
Counsel failed to convey the State's plea offer.
Counsel did not carry out a pre-trial investigation.
Counsel did not hire an expert.
Counsel did not call a witness.

Brady Violation & Prosecutorial Misconduct

Brady evidence is information that is exculpatory and relevant to the case. Before trial, the State is required to provide the defendant with all exculpatory, material evidence. If the state fails to comply, the case may be reversed.

False Testimony
Actual Innocence Based on Newly Discovered Innocence

In many cases, evidence proving an individual's innocence is discovered after they have been convicted. If the defense was not aware of this evidence before trial, a writ of habeas corpus would be the proper legal means to present it to the court.

Involuntary Pleas
Other Constitutional Claims:

Illegal Sentence
Double Jeopardy
The new federal law that was not previously available to the state defendant
San Antonio Attorney For Writ Of Habeas Corpus
Have Questions?
We Have Answers!
"How do I find a recently arrested person in San Antonio?"

Finding out where someone went after they were arrested can be difficult, and you may have to access websites online or make several phone calls. However, it can be a good start to visit the Magistrate's Office Search Website to find information or call the Magistrate's Office at 210-335-6111. If you have the inmate's SID or System Identification Number you may call Central Filing (Misdemeanor Records) at 210-335-2238 or contact Felony Records' District Clerk at 210-335-2591.

"Can I represent myself in a San Antonio criminal case trial?"

San Antonio law allows you to represent yourself before the court under certain criteria. However, we highly advise against it. Do not risk your future! You need a criminal defense attorney who can protect your legal rights and has the necessary experience in providing an exceptional defense strategy on your behalf. Call our criminal defense firm to represent you for any criminal charges you may be facing.

"What is a bench warrant?"

When a person fails to appear in court on a specific date after receiving a notice or order to appear, a bench warrant is usually issued. The person is subject to arrest once the warrant is issued.

If you choose to represent yourself, the court would expect you to file the correct legal paperwork and follow the complicated court procedures in your criminal case. The judge could impose harsh consequences, such as barring you from filing an important motion, if you violate the rules.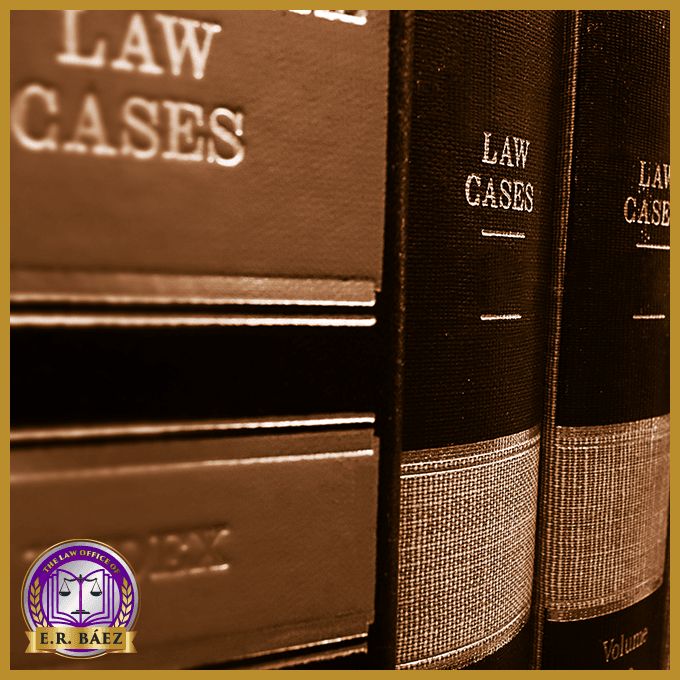 Other Types Of Writs In Texas
While there are numerous other types of writs currently available in the state of Texas, our attorney at The Law Office of Dr. E.R. Báez, P.C. can assist you. Aside from the ones listed below, our law firm can also assist you with a judicial writ, writ of entry, writs of assistance, and many others!
Writ Of Certiorari
In Texas, a writ of certiorari is a rare type of writ that allows an appellate court to decide whether to review a case. Certiorari is a Latin word that means "to become more knowledgeable." A writ of certiorari requires a lower court to order the release of its case record so that the higher court can review it. The United States Supreme Court selects the majority of cases it hears. The Supreme Court employs certiorari. The writ of certiorari is a common-law writ that can be superseded or controlled entirely by statutes or court rules.
Writ Of Mandamus
A writ of mandamus is a court order that directs an inferior government official to perform their official duties properly or to correct any abuse of discretion. A writ of mandamus is a rare remedy that should only be used in cases of public emergency or concern.
Writ of Execution
Within 30 days of the judgment, a judgment creditor can obtain a writ of execution from the clerk of court to seize non-exempt property from the judgment debtor to satisfy the judgment. A Writ of Execution issued by a court allows law enforcement officers in Texas, such as constables and sheriff's police, to execute a judgment debt and seize and sell personal and real property.
Prohibition Writ
When deciding an appeal, Texas' writ prohibits interfering with higher courts. It also prevents inferior courts from hearing lawsuits that seek to rehabilitate disputes settled by issuing judges. Finally, it prevents a trial court from acting if it appears that the court lacks jurisdiction. A writ prohibiting action in a lower court has the same effect as an injunction issued by a higher court. A party requesting a writ must demonstrate that it has exhausted all other remedies and that it is entitled to the requested relief.
Writ of Garnishment
A Texas writ of garnishment is a court order directed at a third party other than the plaintiff/creditor or defendant/debtor in a specific case. The order is addressed to the third party and directs the third party to act or refrain from acting. A third party is typically an institution such as a bank, credit union, or other entity to which the defendant has delegated the responsibility of safeguarding the defendant's assets.