Experienced Sex Crime Lawyer in San Antonio
San Antonio Sex Crimes Lawyer
If you are charged with a sex crime in Texas, you could face serious consequences, including a prison sentence but also mandatory lifetime registration as a sex offender. You need an experienced sex crime lawyer who will fight for your rights.
Being accused of a sex crime must be taken very seriously. Sex crime lawyer Dr. E.R. Báez is an experienced San Antonio sex crime attorney who represents clients throughout Texas. Dr. Báez is familiar with how the government prosecutes sex cases and how to defend clients against sex crimes.
Have You Been Wrongfully Accused of Sexual Assault? Let Our Sex Crime Attorney Defend Your Rights!
Being charged with a sex crime is a highly sensitive subject. If you have been charged, you need a sex crime attorney who understands how to be sensitive while scrutinizing and questioning the evidence against you, including witness testimony.
In some cases, accusations can be based on exaggerated or outright false claims. In other cases, the alleged offender may not have realized he or she was breaking the law. Regardless of the reason, the offenses are heavily persecuted, and the penalties are frequently harsh and life-altering. The penalties could include prison time, fines, and the requirement to register as a sex offender. Therefore, you need to be prepared to fight these charges. A skilled and experienced sexual assault attorney can assist you in fighting for your freedom.
If you are searching for one of the most experienced sexual assault lawyers in San Antonio, then you need to contact The Law Office of Dr. E.R. Báez, P.C.. Sexual assault attorney, Dr. E.R. Báez, has the experience, understanding, and commitment to effectively defend clients accused in state and federal court of all types of adult and child sex offenses, including:
Sexual assault and rape
Child sexual exploitation
Child pornography and Internet sex crimes
Involvement in a prostitution ring

If you are convicted of a sex crime, you may be forced to register as a sex offender for ten years or for life. Dr. Báez understands the gravity of the penalty and is a sex crime lawyer who is willing to hold law enforcement accountable for proving its case beyond a reasonable doubt.
Our San Antonio Sex Crime Attorney Handles All Types of Sex Crimes
False or exaggerated allegations of sexually motivated crimes instill a great deal of fear, embarrassment, and uncertainty. If you are being investigated for a sex crime, you need to have a skilled sex crimes attorney on your side. Our sex crime lawyer Dr. Báez, has been helping residents charged with sex crimes in San Antonio and throughout Texas since 2005. He aggressively defends clients accused of sex crimes in both state and federal courts. Searching for the right sex crimes lawyer in San Antonio may be difficult due to the magnitude of the charges. However, our sex crimes lawyer is here to help you and offers a no-obligation consultation to discuss your defense options.
Many of these accusations are made between family members. When there's a divorce pending or a child custody battle is being contemplated, false allegations are all too common. If you have been accused of an adult or child sex crime and are searching for the most trusted "sexual abuse attorneys in San Antonio, you need to contact an experienced sex crimes attorney such as Dr. Báez as soon as possible.
Have Questions?
We Have Answers!
"How do I find a recently arrested person in San Antonio?"

Finding out where someone went after they were arrested can be difficult, and you may have to access websites online or make several phone calls. However, it can be a good start to visit the Magistrate's Office Search Website to find information or call the Magistrate's Office at 210-335-6111. If you have the inmate's SID or System Identification Number you may call Central Filing (Misdemeanor Records) at 210-335-2238 or contact Felony Records' District Clerk at 210-335-2591.

"Can I represent myself in a San Antonio criminal case trial?"

San Antonio law allows you to represent yourself before the court under certain criteria. However, we highly advise against it. Do not risk your future! You need a criminal defense attorney who can protect your legal rights and has the necessary experience in providing an exceptional defense strategy on your behalf. Call our criminal defense firm to represent you for any criminal charges you may be facing.

"What is a bench warrant?"

When a person fails to appear in court on a specific date after receiving a notice or order to appear, a bench warrant is usually issued. The person is subject to arrest once the warrant is issued.

If you choose to represent yourself, the court would expect you to file the correct legal paperwork and follow the complicated court procedures in your criminal case. The judge could impose harsh consequences, such as barring you from filing an important motion, if you violate the rules.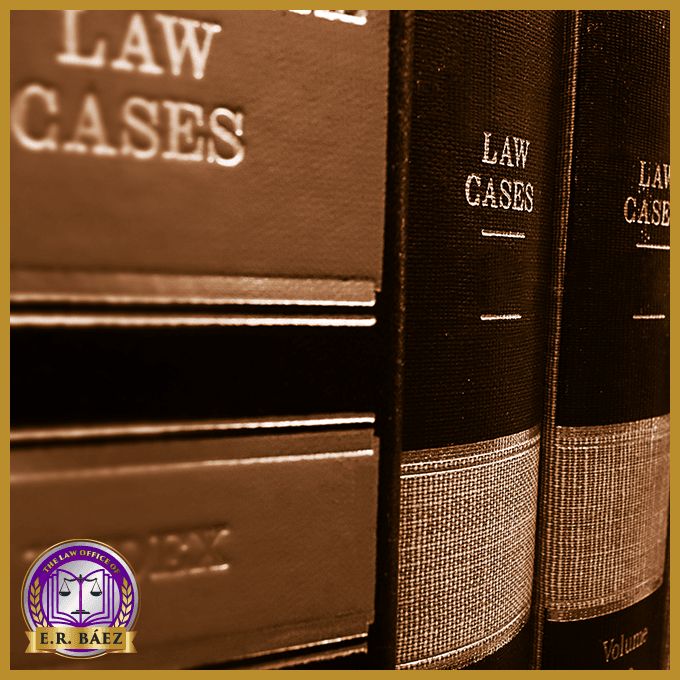 What are the Different Types of Sexual Offenses in Texas?
A conviction for any sexual offense carries serious consequences, such as incarceration, fines, and permanent inclusion on a Texas or federal sex offender registry. Sex offense cases can be difficult and unpopular to take on even for some sex crimes attorneys, and many are hesitant to do so. Our sex crime lawyer, Dr. E.R. Báez, will provide a strong defense to help you fight the allegations.
A variety of sexual offenses are covered by Chapter 21 of the Texas Penal Code. Under Texas law, some sexually motivated offenses include:
Sexual Assault
Sexual assault refers to a wide range of incidents, the majority of which involve an allegation that the accused caused sexual organ penetration without the victim's effective consent. Sexual assault can involve vaginal, anal, or oral sex, and the perpetrator can be either male or female. Sexual assault also includes any sexual act with a child under the age of 17, according to Texas Penal Code § 22.011, unless the accused is three years older or less. Sexual assault is a felony in the second degree.
Online Solicitation of a Minor
This is when a person is accused of engaging in sexually explicit behavior with a person 14 or younger, or a person the accused believes is 14 or younger. The offense is a third-degree felony unless the accused knows the victim is under the age of 14, in which case online solicitation of a minor is a second-degree felony.
Indecency with a Child
According to Texas Penal Code § 21.11, indecency with a child can involve a child and either contact of breasts, genitals, or anus or the exposure of the same. It is a felony in the second degree. It is the same charge for exposing one's anus or genitals, or exposing the anus or genitals of a child, for the purpose of sexual gratification. This is classified as a third-degree felony.
Aggravated Sexual Assault
An aggravated sexual assault is a sexual assault in which the victim suffered serious bodily harm, a lethal weapon was used, or the accused threatened to force the victim to participate in sex trafficking. If a date rape drug, such as GHB, rohypnol, or ketamine, is used, it may be considered aggravated sexual assault. It is a felony in the first degree.
What Are The Sexual Offense Penalties?
In Texas, the penalties for sex crimes vary depending on their classification and a number of other factors. Courts may also impose additional requirements, such as increased fines. In general, penalties for offenses may include:
First-degree felony: five to 99 years in prison or life in prison, plus a fine of up to $10,000

Second-degree felony: two to 20 years in prison and a $10,000 fine

Third-degree felony: two to ten years in prison and a $10,000 fine

State Jail Felony: 180 days to two years in prison and a $10,000 fine

Class A misdemeanor: up to one year in jail and a $4,000 fine

Class B misdemeanor: up to 180 days in jail and a $2,000 fine
What Crimes Put You on Texas' Sex Offender List?
In Texas, people convicted of a sexual offense must register with their local law enforcement authority for a specific period of time, depending on the severity of the sexual offense conviction. A convicted sex offender is required to register for life under Chapter 62 of the Texas Code of Criminal Procedure if they were convicted of any of the following sexually violent offenses:
Indecency contact with a child
Exposing a child to indecency
Possession of child pornography or promotion of it
A child's sexual performance
Minor compelled prostitution
Assault on a female
Aggravated kidnapping
Aggravated sexual assault

Sex offenders may be registered for life. The accused sex offender must report to the police and report any relocation or move. You will be listed on the Internet and may be required to live far away from children, schools, or your place of employment. It is extremely difficult for many sex offender registrants to find gainful employment. If you are being investigated for a sex crime or believe you may be charged with one, it is never too early to consult with a lawyer about your rights and your case.
Our criminal sex crime attorney provides aggressive defense to people accused of sex crimes such as sexual assault, Internet sex crimes or pornography, and indecent exposure. Contact The Law Office of. Dr. E.R. Báez today to schedule an initial consultation or case evaluation with a skilled San Antonio sex crime attorney.