White Collar Crimes Lawyer In San Antonio, TX
Are you facing a white collar crime charge in San Antonio, Texas? If so, you will want to contact the experienced white collar crimes lawyer at The Law Office of Dr. E.R. Báez, P.C..
White collar crime attorney Dr. E.R. Báez — understands that these types of criminal charges can be complex and requires sophisticated knowledge, extensive experience, and an effective defense strategy. His goal is to help protect your rights throughout your legal proceedings and provide you with the unyielding support and guidance needed to receive a successful outcome.
What Is White Collar Crime?
White collar crime is a non-violent crime committed for financial gain or to further a criminal enterprise. Such crimes include fraud, money laundering, tax evasion, bribery, insider trading, embezzlement, and identity theft.
White collar crime is a major problem in society today, and it can affect anyone at any time. Many people think of high-profile criminals when it comes to white collar crime, yet anyone can be a victim – regardless of their wealth or influence. It's important to take these crimes seriously and be aware that they can happen anywhere.
The penalties for white collar crime offenses in San Antonio can be very severe and range from restitution to imprisonment. As with any crime, it is important to understand the laws surrounding white collar crime in your jurisdiction through a reputable white collar crime lawyer to ensure that you don't become a victim of this type of crime or an unwitting accomplice.
Types Of White Collar Crime
The Law Office of Dr. E.R. Báez, P.C. represents Texas clients that have been accused or charged with a wide variety of white collar crimes that include:
Tax fraud
Bribery
Extortion
Identity theft
Embezzlement
Counterfeiting
Embezzlement
Securities fraud
Counterfeiting
Banking crimes
Conspiracy
Wire fraud
Mail fraud
Check fraud
Bank fraud
Bankruptcy crimes
Healthcare fraud
Computer crimes
Passport fraud

San Antonio's Approach To White Collar Crimes
San Antonio has taken a hard stance on white collar crime. The city has implemented laws specifically targeting insider trading, tax evasion, and money laundering, as well as various other types of financial fraud. San Antonio's prosecutors make sure that people who violate the law are held accountable for their actions.
The San Antonio law enforcement authorities also have implemented various initiatives to identify suspicious activities in a timely manner to protect consumers and businesses from financial miscreants.
With increased awareness and heightened scrutiny by law enforcement agencies, individuals who commit white collar crimes must pay attention to the potential consequences they could face should they choose to break the law or unintendedly become involved. Severe penalties are in place for those who are found guilty – no matter how large or small the crime may be.
Have Questions?
We Have Answers!
"How do I find a recently arrested person in San Antonio?"

Finding out where someone went after they were arrested can be difficult, and you may have to access websites online or make several phone calls. However, it can be a good start to visit the Magistrate's Office Search Website to find information or call the Magistrate's Office at 210-335-6111. If you have the inmate's SID or System Identification Number you may call Central Filing (Misdemeanor Records) at 210-335-2238 or contact Felony Records' District Clerk at 210-335-2591.

"Can I represent myself in a San Antonio criminal case trial?"

San Antonio law allows you to represent yourself before the court under certain criteria. However, we highly advise against it. Do not risk your future! You need a criminal defense attorney who can protect your legal rights and has the necessary experience in providing an exceptional defense strategy on your behalf. Call our criminal defense firm to represent you for any criminal charges you may be facing.

"What is a bench warrant?"

When a person fails to appear in court on a specific date after receiving a notice or order to appear, a bench warrant is usually issued. The person is subject to arrest once the warrant is issued.

If you choose to represent yourself, the court would expect you to file the correct legal paperwork and follow the complicated court procedures in your criminal case. The judge could impose harsh consequences, such as barring you from filing an important motion, if you violate the rules.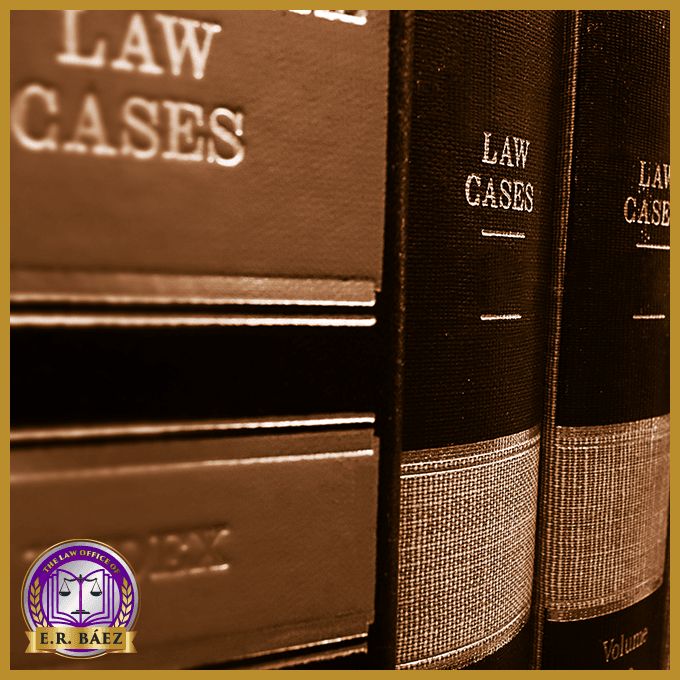 Penalties Imposed On White Collar Crimes
At The Law Office of Dr. E.R. Báez, P.C., our San Antonio white collar crimes lawyer understands that being accused of a crime can be a stressful situation. Depending on the type of offense, the penalties for white collar crime may vary from a fine to prison time.
A conviction for a Class C misdemeanor white collar crime in Texas can result in a fine up to $500. For Class B misdemeanor white collar offenses, the penalty could include 180 days in jail, a fine up to $2,000, or both. If convicted of a Class A misdemeanor white collar offense, you could be sentenced to one year in jail or fined up to $4,000 or both.
The consequences grow more severe as the severity of the offense increases: A state jail felony may result in 180 days to 2 years in prison, with fines up to $10,000; a third-degree felony could come with 2-10 years in prison and fines up to $10,000; second-degree felonies are punishable by 2-20 years in prison and an increased fine of up to $10,000; and first degree felonies carry sentences from 5-99 years (or life imprisonment) and fines of up to the same amount ($10K).
It is important for anyone facing charges for white collar offenses to get legal counsel immediately. At The Law Office of Dr. E.R. Báez, P.C., our San Antonio white collar crimes lawyer has more than seventeen years of experience dealing with these types of cases. E.R. Báez is more than prepared to offer you professional advice and representation every step of the way, so rest assured – you're not alone!
Take Control Of Your Case With An Effective White Collar Crime Attorney
At the Law Office of Dr. E.R. Báez, our white collar crime lawyer understands that facing white collar crime charges can be intimidating and overwhelming.
Dr. E.R. Báez is a San Antonio white collar lawyer who takes the time to create tailored plans for each of his clients and provides them with skilled defense in order to protect their legal rights at all costs. f
With years of experience navigating white collar crime cases throughout San Antonio and greater Texas, Dr. E.R. Báez ensures you obtain greater chance of success for your white collar crimes case! Our white collar crimes attorney also values effective communication with every client, ensuring that you always feel listened to and kept informed as your case progresses.
With Mr. E.R Báez as your white collar crimes attorney , you can expect to be provided with prompt, comprehensive responses to any questions or concerns that may arise throughout the duration of your case – enabling you to make informed decisions and progress confidently and effectively. Rest assured that he is compassionate and will do whatever it takes to put your worries to rest!