Experienced Federal Appeals Lawyer In San Antonio
Defend Your Rights By Employing One Of The Most Qualified Federal Criminal Appeal Attorneys In Texas
Federal authorities such as the Drug Enforcement Agency, the FBI, the ATF, and the Secret Service investigate all major crimes in South and Central Texas. Because of its proximity to Mexico, the region is subject to a great deal of Federal Criminal litigation. Within the Federal Court System, the Western District of Texas is a large geographical region. It has courts in San Antonio and Austin, as well as Del Rio, El Paso, Midlands, Pecos, Waco, and El Paso.
If a federal prosecutor or authority wants to make an example of you, The Law Office of Dr. E.R. Báez, P.C. is the firm to hire to protect your rights. The federal crimes you are accused of may carry serious consequences. Having one of the most reliable federal criminal appeal attorneys on your side could significantly increase your chances of having a favorable outcome for your case, no matter how complex it may be. Prosecutors can use any means necessary to persuade the jury that you are guilty. Our federal appeals lawyer, Dr. E.R. Báez, will use all available resources to prove the innocence of those who may have been targeted by federal authorities.
Don't Risk Your Freedom To Chance! Work With An Experienced Federal Criminal Attorney
Our federal appeals lawyer at The Law Office of Dr. E.R. Báez, P.C. has extensive experience handling federal criminal cases. Federal drug cases and alien smuggling are some examples of these. It is not about negotiating a plea, but about getting all charges dropped. This is preferable in a pretrial motion before the case is heard by a judge or jury.
Residents in Central and South Texas rely on our federal appeals lawyer, Dr. E.R. Báez, to defend them in federal criminal cases. This is because he has been well-respected by his peers, the Texas courts, and his clients since 2005. The Law Office of Dr. E.R. Báez, P.C. has a reputation for bringing successful results to clients.
Dr. E.R. Báez is one of the most experienced federal appeal attorneys in Texas. Call our law firm today to set up a free consultation with our experienced federal appeals lawyer.

The Federal Appellate Courts
The Federal Courts are divided into 13 circuits, each with its own Appellate Court. The Fifth Circuit includes the federal district courts of Texas. Federal courts from Louisiana, Mississippi, and Mississippi are also included. The Fifth Circuit Court of Appeals is located in New Orleans, Louisiana. If a federal appeal is unsuccessful, the loser may petition the United States Supreme Court for a review of the case. The United States Supreme Court is not required to hear every case that is presented to it.
Defending your conviction is possible at any stage of the appeal process, whether in State or Federal Court. Whichever point you are in the appeal process, you should be represented by an experienced federal appeals lawyer. Contact The Law Office of Dr. E.R. Báez, P.C. as soon as possible to discuss your appeal with our federal appeals lawyer.
PRESENTING YOUR CASE TO THE SUPREME COURT
Tough Defense From The Most Reliable Federal Appeal Attorney In San Antonio
Many people are unaware that many issues that may arise during a criminal case can be appealed to the United States Supreme Court. This holds whether you are in Texas state or Federal Courts.
Our federal appeals lawyer has a thorough understanding of the appeals process, allowing him to determine where a case should be heard at each stage. In addition, our legal office's federal appeals lawyer is well-versed in a variety of appeal and post-conviction forms, including Habeas Corpus, Corum Novis, and Mandamus.
Have Questions?
We Have Answers!
"How do I find a recently arrested person in San Antonio?"

Finding out where someone went after they were arrested can be difficult, and you may have to access websites online or make several phone calls. However, it can be a good start to visit the Magistrate's Office Search Website to find information or call the Magistrate's Office at 210-335-6111. If you have the inmate's SID or System Identification Number you may call Central Filing (Misdemeanor Records) at 210-335-2238 or contact Felony Records' District Clerk at 210-335-2591.

"Can I represent myself in a San Antonio criminal case trial?"

San Antonio law allows you to represent yourself before the court under certain criteria. However, we highly advise against it. Do not risk your future! You need a criminal defense attorney who can protect your legal rights and has the necessary experience in providing an exceptional defense strategy on your behalf. Call our criminal defense firm to represent you for any criminal charges you may be facing.

"What is a bench warrant?"

When a person fails to appear in court on a specific date after receiving a notice or order to appear, a bench warrant is usually issued. The person is subject to arrest once the warrant is issued.

If you choose to represent yourself, the court would expect you to file the correct legal paperwork and follow the complicated court procedures in your criminal case. The judge could impose harsh consequences, such as barring you from filing an important motion, if you violate the rules.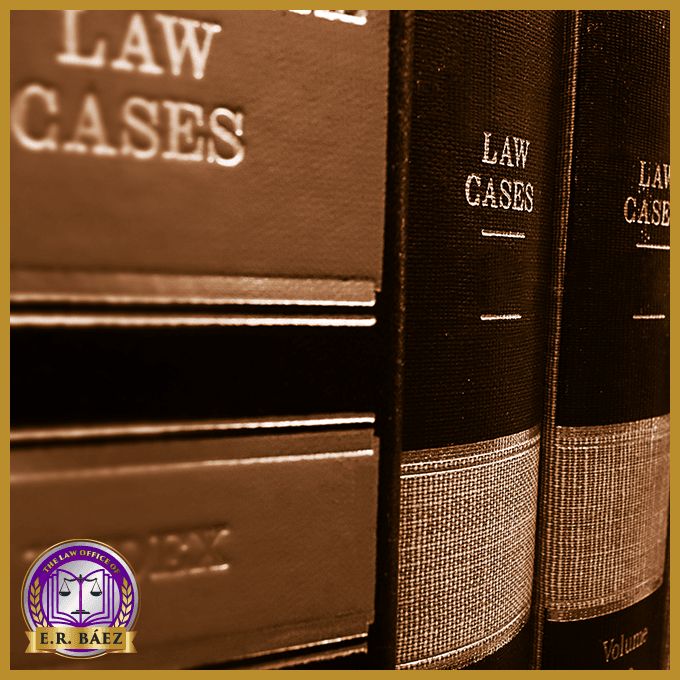 Local law enforcement brings the majority of criminal charges, which are heard in state courts. However, in certain circumstances, the federal government may be able to assist in the pursuit of criminal charges against someone. Charges against federal offenses are brought in federal courts. These federal offenses frequently carry harsher penalties that can have a long-term impact on a person's life— this is precisely why you need a skilled and experienced federal lawyer on your side.
Different laws and procedures govern these situations. Not all lawyers are authorized to represent clients in federal court. You must work with one of the experienced federal lawyers in San Antonio, such as Dr. E.R. Báez, who is familiar with federal court challenges.
Federal law enforcement agencies receive more funding than local or state law enforcement agencies, which can render many federal lawyers at a disadvantage. At every stage of an investigation or prosecution, federal agents and prosecutors have vast resources at their disposal. Therefore, good federal lawyers should be resourceful and prepared at all times to give you the best possible outcome for your federal case.
Many of these cases begin years before an arrest is made for a federal offense. Federal agents frequently inform white-collar criminals about ongoing investigations. When you learn about the investigation, you should contact the federal criminal defense lawyer at The Law Office of Dr. E.R. Báez, P.C. right away. Our federal criminal attorney has extensive experience representing clients with serious federal prosecutions in the state of Texas. Our federal defense lawyer will represent you at every stage of a federal criminal case, from the beginning of an investigation to the filing of criminal charges and the jury trial.
Strategic Defense Representation For Your Federal Case
Appeal law is a complicated area of the law. It is not enough that the lower court made a mistake. Our appeals attorney will ensure that any mistakes are documented so that they can be challenged or appealed.
The criminal appeal attorney at The Law Office of Dr. E.R. Báez, P.C. is well-versed in appeals and other post-conviction procedures. Our federal criminal defense lawyer, Dr. E.R. Báez, has extensive experience in oral arguments and brief writing for appellate courts. Our federal appeals lawyer can assist you in your fight for liberty beyond the state of Texas.
Looking For Reliable Lawyers For Federal Cases In San Antonio?
If you're looking for a "federal attorney near me" in San Antonio that you can rely on, you've come to the right law office.
By putting your trust in our federal criminal attorney, he will work tirelessly so that you are facilitated through a difficult and time-consuming legal process. You can put your faith in our federal defense lawyer as he will investigate your case and provide a strategic defense that provides you with the best chances of a positive outcome.
Dr. E.R. Báez is one of the most qualified and experienced federal appeal attorneys in Texas to represent you. He will keep you informed at all stages of your federal case to ensure that you get the best possible outcome for your federal charges. Contact The Law Office of Dr. E.R. Báez, P.C. for a free consultation to speak to our federal appeal attorney today!