Post-Conviction Lawyer In San Antonio, Texas
After you have been convicted, you have several options for relief. The post-conviction lawyer at the Law Office of Dr. E.R. Báez, P.C. is a uniquely qualified state and federal post-conviction relief lawyer with extensive experience in this field.
Experienced Post-Conviction Attorney Serving Texas
Are you thinking about appealing a recent conviction?
Are you certain that all Texas state appeals remedies, including direct appeals to the circuit courts, and habeas petitions, have been exhausted?
After exhausting all appeals under United States law, a defendant may file a motion for relief. This motion allows the defendant to have another jury hearing.
At The Law Office of Dr. E.R. Báez, P.C., our post-conviction attorney has filed numerous motions for post-conviction relief. Our post-conviction lawyer is an experienced criminal defense attorney who solely handles motions for post-conviction relief.
When you call The Law Office of Dr. E.R. Báez, P.C., our post-conviction lawyer can file a motion for habeas corpus or post-conviction relief. Discuss your case with our post-conviction attorney today and enjoy an obligation-free consultation!
Comprehensive Legal Services Throughout The Post-Conviction Relief Process
Are you searching for a reliable "post-conviction attorney near me" in San Antonio?
Our post-conviction attorney at The Law Office of Dr. E.R. Báez, P.C. represents people who need various types of post-conviction relief. Our post-conviction lawyer will take the time to understand your case to provide knowledgeable legal advice, guidance, and representation. The post-conviction lawyer and his staff at our law office will work together to find the best solution for you as well as assist you in navigating the path to this solution with ease from beginning to end.
People who have been wrongfully convicted or sentenced for crimes they did not commit are frequently featured in news stories. There may have been cases that were not tried properly. In these cases, you will need to raise the relevant issues through post-conviction relief to have your case heard again.
Because the defendant does not usually waive his right to seek post-conviction relief when he pleads guilty, post-conviction relief is more permissible than federal relief. Like the federal system, post-conviction relief is available on all grounds.
The post-conviction attorney at The Law Office of Dr. E.R. Báez, P.C. investigates to assist you in obtaining relief. This includes reviewing all trial and hearing records, documents, and transcripts, as well as all witness interviews.
What Are Your Options For Post-Conviction?
Each of your available options is distinct and necessitates a tailored approach from a post-conviction attorney who is familiar with both the Texas and federal justice systems. Additionally, your specific circumstances will determine which post-conviction relief options you have.
There could be:
Direct Appeals
Habeas Corpus Writs
Motions for a New Trial
When you choose Dr. E.R. Báez as your post-conviction attorney, his ultimate goal will be your success. Our post-conviction attorney is always happy to answer your questions and address any concerns you may have when you first speak with him.
For clients in San Antonio, Texas, and the surrounding areas, our post-conviction lawyer, Dr. E.R. Báez, and his law office offer comprehensive post-conviction relief options. Contact us to learn more and to schedule a free consultation!
Have Questions?
We Have Answers!
"How do I find a recently arrested person in San Antonio?"

Finding out where someone went after they were arrested can be difficult, and you may have to access websites online or make several phone calls. However, it can be a good start to visit the Magistrate's Office Search Website to find information or call the Magistrate's Office at 210-335-6111. If you have the inmate's SID or System Identification Number you may call Central Filing (Misdemeanor Records) at 210-335-2238 or contact Felony Records' District Clerk at 210-335-2591.

"Can I represent myself in a San Antonio criminal case trial?"

San Antonio law allows you to represent yourself before the court under certain criteria. However, we highly advise against it. Do not risk your future! You need a criminal defense attorney who can protect your legal rights and has the necessary experience in providing an exceptional defense strategy on your behalf. Call our criminal defense firm to represent you for any criminal charges you may be facing.

"What is a bench warrant?"

When a person fails to appear in court on a specific date after receiving a notice or order to appear, a bench warrant is usually issued. The person is subject to arrest once the warrant is issued.

If you choose to represent yourself, the court would expect you to file the correct legal paperwork and follow the complicated court procedures in your criminal case. The judge could impose harsh consequences, such as barring you from filing an important motion, if you violate the rules.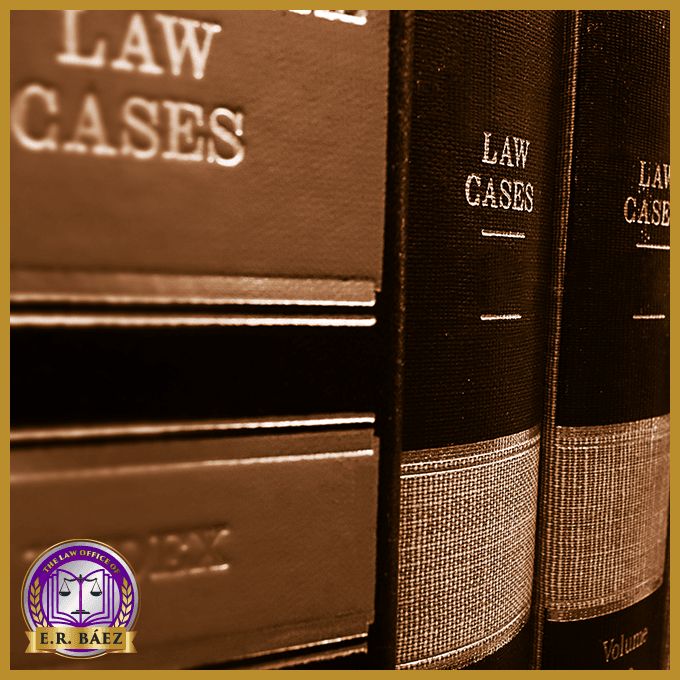 Texas Writ of Habeas Corpus
The Law Office of Dr. E.R. Báez, P.C. has a single goal: to help our clients win appeals and protect their constitutional rights.
Defendants who have exhausted all of their appeal rights, including post-conviction relief motions, may file a writ of habeas corpus. Our post-conviction lawyer is well-versed in the legal system of the United States as well as the rules of criminal procedure and has represented clients in many post-conviction proceedings in and out of state.
To file a habeas corpus request, a thorough understanding of the procedural rules is required. It is critical if you are already in prison and want to petition the court for relief. Our post-conviction attorney and his staff have extensive experience filing habeas corpus petitions on behalf of clients who are contesting their convictions and incarceration. Throughout the process, a strong support system is essential. An experienced, knowledgeable post-conviction lawyer is required to draw the judge's attention to overlooked facts, denials of constitutional rights, and illegal sentences.
Our Texas post-conviction attorney works tirelessly to generate new ideas. Dr. E.R. Báez, our law office's sole post-conviction lawyer, drafts writs and briefs after conducting extensive legal research. With the help of our post-conviction lawyer knowledge and unique skillset, countless clients in and out of Texas have had their cases brought to a favorable conclusion.
Attorney For Federal Post-Conviction Relief
The Law Office of Dr. E.R. Báez, P.C.'s post-conviction lawyer can assist no matter what level of legal trouble you are facing. Our post-conviction lawyer can assist in navigating the appeals process, no matter how difficult it appears, and will look over your sentence, conviction, plea, or jury trial in criminal court. In federal court, you must file for post-conviction relief within one calendar year of the date of the sentence and judgment. If the jury verdict was not reached, there are numerous grounds for requesting a writ of habeas corpus. If you plead guilty, you may have waived your right to seek post-conviction relief. To find out more about your legal rights, contact The Law Office of Dr. E.R. Báez, P.C..

TIME-LIMIT
There is no time limit for filing post-conviction relief after a state court conviction. The appellate procedures in Texas are unique in that there is no deadline. Federal statutes do not specify a time limit for filing a federal habeas corpus petition challenging a state conviction. You must demonstrate that you have made your allegations to state courts. The state petition must be submitted within a specific time frame.
THE UNDERLYING ISSUE
This can make things even more difficult if you have trouble proving your case. It can be difficult for an appeals lawyer to decide whether to file the incomplete application in state court to avoid losing federal habeas corpus. When there are time constraints, it is critical to ask this question before deciding what to do.