Theft Crime Lawyer In San Antonio
Tough Legal Defense That Gets Successful Results!
In the state of Texas, theft crimes are taken very seriously. There will be heavy consequences if you are convicted of a theft crime. To say the least, you could face prison, hefty fines, and a permanent criminal record. In the worst-case scenario, a conviction can mark you as a convicted felon, making it difficult to obtain employment, housing, professional licenses, and other benefits.
Because most theft crimes carry serious consequences, you must seek effective representation from a tough defender. Our San Antonio theft crime lawyer, Dr. E.R. Báez, aggressively defends all types of theft charges.
Entrust Your Case To One Of The Most Reliable Theft Lawyers In San Antonio, Texas

Save Yourself From Life-Altering Consequences

Theft charges can lead to life-altering implications preventing you from doing what you love, therefore, they must be dealt with immediately by legal defense professionals who specialize in this practice area who can truly help you and make a difference. You need an experienced theft crime lawyer to help protect your legal rights and defend you against your charges.
A conviction on your record may make it extremely difficult to find work. Employers frequently reject applicants who have a theft crime on their record. They do not want to risk having an employee who they believe will be a liability to their company. It can also have an impact on immigration status because it is considered a crime of "moral turpitude."
Dr. E.R. Báez —one of the most widely trusted theft lawyers in San Antonio, Texas, has the experience and skills that can help you greatly improve your chances of overcoming charges. The Law Office of Dr. E.R. Báez, P.C. has assisted many people who have faced theft crime charges in San Antonio, TX and the surrounding communities.
What Is A Theft Crime?
Theft is a simple crime. Theft is defined as taking someone else's property or services without their permission and is prohibited in Texas under Penal Code Section 31.03, which makes various types of theft illegal. Moreover, it is illegal to take something with the intent of depriving the owner of it (even for a short time) and taking a property that you know is stolen. Typically, the value of the stolen property determines the penalty for theft.
The Law Office of Dr. E.R. Báez, P.C. has a reputation for bringing successful results to clients both in and out of the courtroom thanks to the unique qualifications and experience of our theft crime lawyer.
Types Of Theft In Texas
Texas law covers a wide range of theft offenses, all of which the The Law Office of Dr. E.R. Báez, P.C. can defend you against.
Our compassionate theft lawyer will always keep an open ear and mind to understand your situation no matter how overwhelming your theft/fraud case is. That is why The Law Office of Dr. E.R. Báez, P.C. notifies our clients as soon as possible about the types of charges they are facing and any penalties they may face. Our theft crime lawyer always treats clients with respect and dignity regardless of any case. It is important to note that your theft crime lawyer's experience and skill can have a significant impact on the outcome of your case. If you or a loved one has been charged with any of the following theft crimes, please contact our San Antonio theft crime lawyer right away:
These include:
Misdemeanor Theft
Felony Theft
Grand Theft
Shoplifting
Burglary or robbery
Larceny
Fraud
Forgery
Embezzlement
Credit or Debit Card Abuse
Misappropriation/Misapplication of Fiduciary Funds
Unauthorized Use of a Motor Vehicle
Have Questions?
We Have Answers!
"How do I find a recently arrested person in San Antonio?"

Finding out where someone went after they were arrested can be difficult, and you may have to access websites online or make several phone calls. However, it can be a good start to visit the Magistrate's Office Search Website to find information or call the Magistrate's Office at 210-335-6111. If you have the inmate's SID or System Identification Number you may call Central Filing (Misdemeanor Records) at 210-335-2238 or contact Felony Records' District Clerk at 210-335-2591.

"Can I represent myself in a San Antonio criminal case trial?"

San Antonio law allows you to represent yourself before the court under certain criteria. However, we highly advise against it. Do not risk your future! You need a criminal defense attorney who can protect your legal rights and has the necessary experience in providing an exceptional defense strategy on your behalf. Call our criminal defense firm to represent you for any criminal charges you may be facing.

"What is a bench warrant?"

When a person fails to appear in court on a specific date after receiving a notice or order to appear, a bench warrant is usually issued. The person is subject to arrest once the warrant is issued.

If you choose to represent yourself, the court would expect you to file the correct legal paperwork and follow the complicated court procedures in your criminal case. The judge could impose harsh consequences, such as barring you from filing an important motion, if you violate the rules.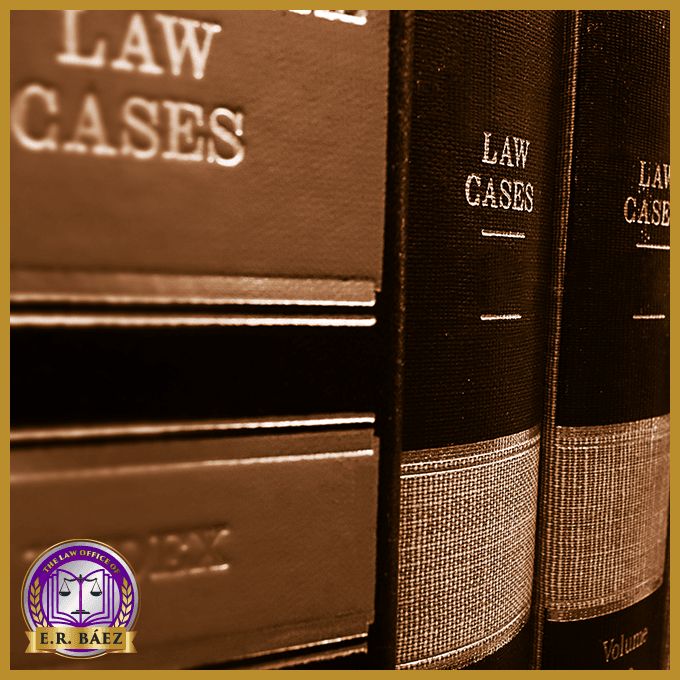 Fraud Attorney San Antonio
Avoid Steep Theft Penalties
Choose One Of The Most Respected San Antonio Criminal Law Attorneys!
The value of the property, the funds stolen, prior criminal record, and other determining factors, such as if a weapon was used, will determine the penalties for your San Antonio theft offense. Charges can range from a Class C misdemeanor with a fine of up to $500 to a first-degree felony with a prison sentence of 5 to 99 years of life. Therefore, it's important to hire the legal services of an experienced San Antonio theft crime lawyer.
If your rights were violated in any way during the arrest or evidence gathering, our San Antonio theft crime lawyer will fight to have your charges reduced or dropped on these grounds. The theft crime lawyer at The Law Office of Dr. E.R. Báez, P.C. draws on his unique skill set and diverse background as well as his resourcefulness to consult with experts in their fields when necessary. Call our law office today for a free consultation.
Crime Attorney For Credit Card Abuse

Credit card abuse is simply obtaining cash or property by using a stolen credit card or a card that you are not authorized to use by the owner. This is a type of crime that many theft lawyers in the country face with their clients. In Texas, however, theft attorneys frequently treat credit card abuse as a state jail felony punishable by:
A fine of up to $10,000.00
180 days in jail or prison to 2 years in prison
Lifetime Record

In general, theft lawyers may advise you that there is no early release from state prisons. For a state jail felony offense, jail time can be extended for up to five years. As a theft lawyer in San Antonio who can handle complex cases relating to credit card abuse, our San Antonio theft crime lawyer understands that there is a lot more at stake in these cases, including your reputation. A credit card abuse conviction can significantly impact your future opportunities for employment, housing, higher education, or loans. Consult The Law Office of Dr. E.R. Báez, P.C. today to get the answers you need from one of the most trusted San Antonio criminal law attorneys.
Fraud, writing bad checks or forgery are serious crimes in Texas. Serving the San Antonio community as one of the experienced fraud lawyers in Texas, our fraud attorney, Dr. E.R. Báez, has the extensive experience and knowledge you need to move forward with confidence. The Law Office of Dr. E.R. Báez, P.C. has one of the most uniquely qualified fraud lawyers in the whole state of Texas. Before becoming a criminal lawyer, Dr. E.R. Báez was a former Senior Drill Sergeant in the United States Army. His unique qualifications and extensive background provide his law office with personal insight.
At The Law Office of Dr. E.R. Báez, P.C., choose our fraud lawyer in Texas who can help you with even the most complicated cases. If you are searching for a "fraud attorney near me" in San Antonio, then our fraud attorney can help you with fraud charges that include:
Forgery
Checks That bounce
Abuse of Credit Cards
Using Stolen Checks
Counterfeiting
Document falsification
Any Other Fraudulent Transactions
Allow Our Theft Crime Lawyer To Help You From Destructive & Irreversible Life-Long Consequences
If you are convicted of a theft offense twice or more, the state of Texas may upgrade your charge to a felony. This is punishable by a fine of up to $10,000.00 and imprisonment for up to two years. Your theft offense could be probated for up to 5 years. If you have previously been sentenced to prison or state jail, your theft charges may be updated to make them even more severe.
The bottom line is that good legal representation matters. It can mean the difference between a guilty or not guilty theft offense verdict from a jury. Theft charges can follow you for the rest of your life, so you should hire an experienced theft crime lawyer. Our San Antonio theft crime lawyer, Dr. E.R. Báez has the unique skill and experience as a criminal lawyer to represent you in and out of court. In his many years of practice, The Law Office of Dr. E.R. Báez, P.C. has earned the trust of countless clients through exceptional legal ability, a strong track record of success, and a commitment to his clients.